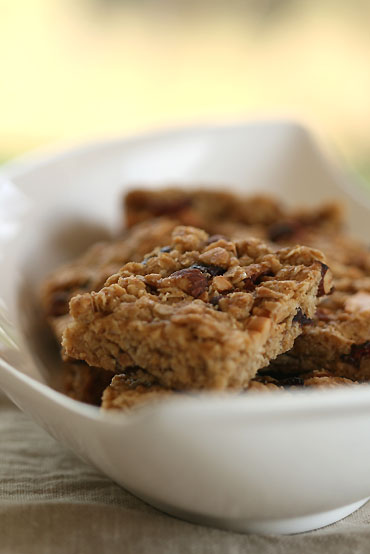 The hearty and crispy granola bars are always my favorite.
They could be the fast breakfast, or handy for lunch boxes. If you regard these as snack, the chocolate chips or marshmallow can be added for more flavor.
[ingredients]
butter 100g
rolled oats 140g
all-purpose flour 70g
honey or corn syrup 70g
brown sugar 50g
nuts, roasted and chopped 100g
raisin 50g
cinnamon powder optional
[preparation]
1. Preheat the oven to 350F/180C. Grease the pan.
2. In a large mixing bowl, place all dry ingredients and stir together.
3. In a small pot, place the butter, honey and sugar over low heat and stir well until melted.
4. Pour onto the dry ingredients and mix well. Turn into the prepared pan.
5. Bake in the oven for 25 minutes, or until golden brown. Let it cool completely and cut into desired sizes.