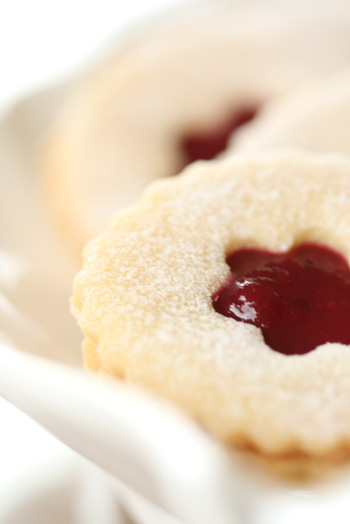 I imagine that cranberries probably remind most people of Thanksgiving and Christmas in North America. We celebrate these two important holidays with the turkey dinner with a cranberry sauce which is very traditional holiday dinner here. I don't eat turkey myself, but the cranberry sauce gets along with the other dishes like pork, ram and ham, etc. I didn't have any bit of idea to use them for the desserts for many many years - that's probably because the combination of cranberries and turkey was too strong to me - , but all of sudden I wanted to transform these tangy berries into some refreshing dessert for a change. So, I made jam for the start. I added a bit of orange juice and zest in the jam, and found out they are actually in good harmony with cranberries, so I decided orange is a ' must ' for particurarly this jam. They worked excellent! I also baked shortbread cookies to enjoy them with jam. The berry's refreshing sourness gave the mild accent to the buttery rich taste cookies. Wow, what a nice combination! I couldn't resist myself trying another one again and again. Now, I got the shortbread cookie's recipe from my sharing old friend Isabelle, wonderful British lady, who used to live next door to me, and I believe this is the best shortbread cookie in the whole world! You should give them a try for this coming holiday season!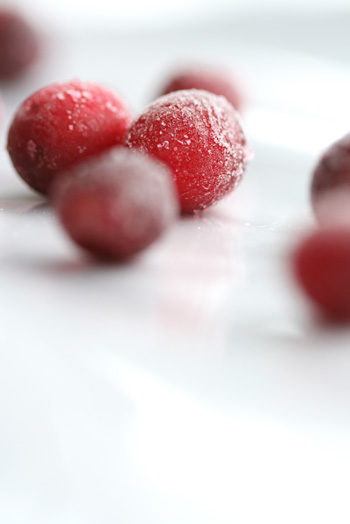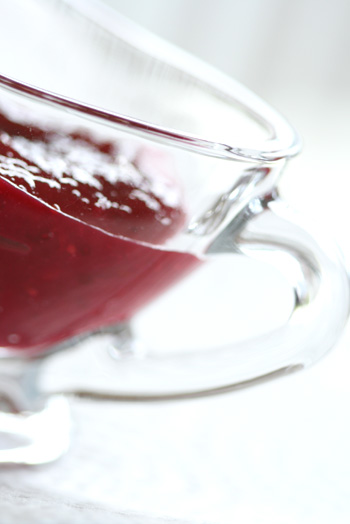 [ingredients - cranberry jam- ]
cranberries, fresh or frozen 150g
strawberries, fresh or frozen 4,5pieces
fresh orange juice 80ml
sugar 50g - 100g ( it depends how sweet you'd like your jam)
orange zest
certo, liquid type 1/2 pouch(40g)
[preparation]
1. Thaw the berries, if frozen. Puree them with the blender.
In the medium saucepan, put all ingredients and bring them to a boil point over medium - low heat. Stirring constantly, for 12 minutes on low heat.
2. Remove from heat, and stir in certo.
3. Stir and skim for 5 min.
4. Quickly pour into sterilized freezer jars or containers.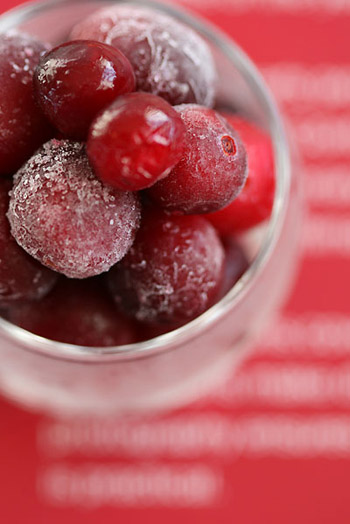 [ingredients - shortbread cookies - ]
butter 1 cup
icing sugar 1/2 cup
salt 1/2 tsp
egg yolk 1
all purpose flour 2cups
[preparation]
1. Shift flour. Preheat oven to 350F.
2. Soften butter slightly, do not allow to become oily.
3. Stir in sugar, salt and egg yolk with a wooden spoon. Add flour, a little at a time, until mixture is too stiff to work with a spoon.
4. Turn onto floured board, knead lightly, drawing in the flours.
5. Roll out dough 1/8 inch thick and cut out cookies with your favorite cookie cutter.
6. Bake at 350F for 10 min. or until edges are just beginning to brown. Cool them completely.
7. Spread 1/2 tsp jam on the flat side of cookies and top with another one.
Enjoy!
クランベリー、というと北米では感謝祭やクリスマスを思い起こされる方が多いかもしれません。大切なこのふたつの休日には、ここではターキーをクランベリーソースで頂く伝統的なお料理でお祝いします。私自身はターキーが食べられないのですが、他のお肉料理(豚、ラム、ハムなど)にもクランベリーソースはよく合うと思います♪
このクランベリーですが、実はもう何年もの間デザートに使ってみようなんて考えもしなかったのです。ターキー料理との結び付きが余りに強かったせいかな??? それが何故か突然、このベリーを美味しいデザートに変身させてみたくなったのでした。それで、とりあえずジャムを作ることに。。。
このジャムを作る時にオレンジジュースと皮を摩り下ろした物を加えてみたのですが、これがクランベリーととても相性がいいんです!少なくともクランベリーをジャムにした時には、オレンジは必須だと思いました。
このジャムを楽しむためにショートブレッドクッキーを焼きました。
バターの香りが芳しいこのクッキーに、ベリーがさっぱりした酸味を加えます。我ながら何て良いコンビネーションなんでしょう(笑)。次から次へと手が伸びてしまう美味しさです^^;
このショートブレッドクッキーのレシピは、嘗て私達の隣人だったイギリス人のお友達、イザベルから頂いたもので、世界一美味しいレシピです(笑)! これからのホリデーシーズンに、貴方も作られてみてはいかが?