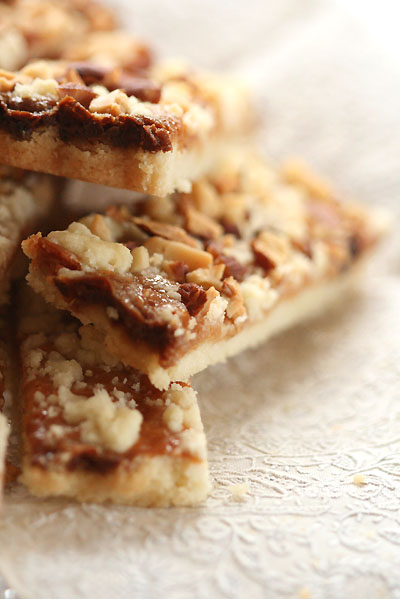 As soon as the calender indicates the arrival of autum, we've been having nothing but rain. Rain, rain, rain. Wet days, everyday. Well, during the weather is drastically changing in all over the world, due to global warming, it seems this typical west coast's wet feature is never changed yet. I'm supposed to appreciate this situation then.
Yesterday I found a good recipe at
' Baking Obsession '
, which is lead by Vera, a wonderful food blogger.
These delicious cookies are called 'tan-fingers' , the base is made of the shortbread cookie and covered with the creamy caramel, cookie crumbs on top. (I also added some roasted nuts on top of it)
Mmmmm, these are sooooo yummy!
I mean they were more delicious than I expected. I believe the combination of shortbread cookies and caramel is the best of the best. They are so much my favorite. I'll definitely make them again and I can guarantee you that you'll never be disappointed with this recipe. It's worth to try!
Japanese Version 日本語訳